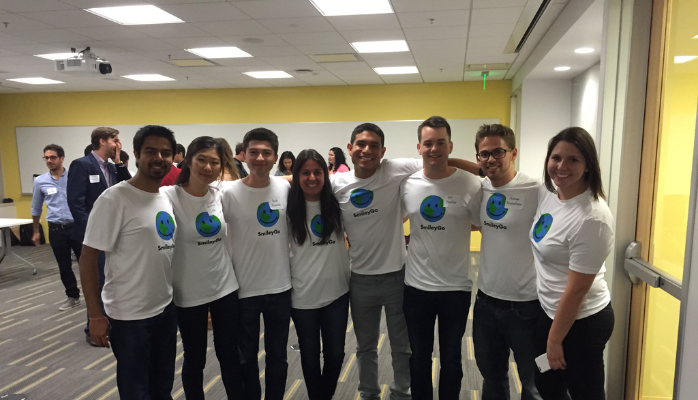 1. One in every four Americans under 18 years old is Latino 
After attending the Congressional Hispanic Caucus Institute Breakfast with the Tech Community as a Latino founder at Google headquarters I was impressed by the numbers behind our Hispanic community. The fact that the Hispanic population in our nation keeps growing means we need to start creating a pipeline of STEM education to empower the young Latinos to lead in our technology industry. It is not only for the good of diversity but also for the good of our economy that we need to start empowering our minorities at early stages. For instance, the Hispanic Heritage Foundation led by Antonio Tijerino and Emanuel Pleitez is doing a phenomenal job with their LOFT initiatives in regards to their hackathons, summits and pitching competitions. We need more organizations such as the Hispanic Heritage Foundation to continue leveraging the Latino talent.
2. One in every three live under the poverty line
It is no surprise that our minorities are underserved. Zip codes shouldn't determine how successful you will be. We must bring back the American Dream and make it possible for any child to realize their dreams regardless of their background, ethnicity, faith or socioeconomic status. Check this infographic that presents the social issue of homelessness and poverty in the second-most densely populated major city in the United States: San Francisco. To look at one case,Street Code Academy led by Shadi Barhoumi is doing a wonderful job in training young African Americans and Hispanics in computer science at East Palo Alto– they have many success stories of young minorities now being internet entrepreneurs in Silicon Valley.
3. The average age of Hispanic Americans is 27, while the average age of all Americans is 37
After living in Miami, New York and San Francisco I have realized that we are not only young but also eager to progress. You live and learn. Lets take advantage of their young age to start teaching them technology entrepreneurship, computer science and business. We need more accelerators, incubators and training facilities to educate and empower young minorities to create their tech ventures, nonprofits and businesses. For example, Manos Accelerator led by Sylvia Flores is doing an outstanding job in discovering talent in Hispanic entrepreneurs in and outside the United States. We need more accelerators similar to Manos in the myriad of U.S. cities where Latinos represent a significant % of the population.
4. Over 60% of Latinos are under the age of 25
Nine out of ten Latinos are native born in the United States. Thus, it is no surprise that in the next few decades Latinos will become 25% of our population. By acknowledging that the Latino population in our country is important, we must also recognize that their buying power is $1.5 trillion according to the U.S Census Bureau, Pew Research Center, and Selig Center For Economy Growth. This noteworthy research written by Eliana Murillo — Head of Multicultural Marketing at Google — demonstrates  technology companies and  marketers how to connect with Hispanics online.
5. Nearly 70% of Hispanics are enrolled in higher education 
Having being enrolled at Stanford University and Berkeley Haas, I have attested the fact that there aren't many Latinos at our most prestigious universities. Pursuing this further, the number of Latinos who are studying any STEM related field is stunning. It is fortunate that there is a projected increase in college enrollment for Hispanics: from 2011 to 2012 there was a 27% increase in undergraduate enrollment. However, the number of Latinos enrolled in Ph.D. programs is very low. It is time to unite forces and create the pipeline to educate, empower and train our minorities for the best of our economy, society and leadership as the world's leading nation.