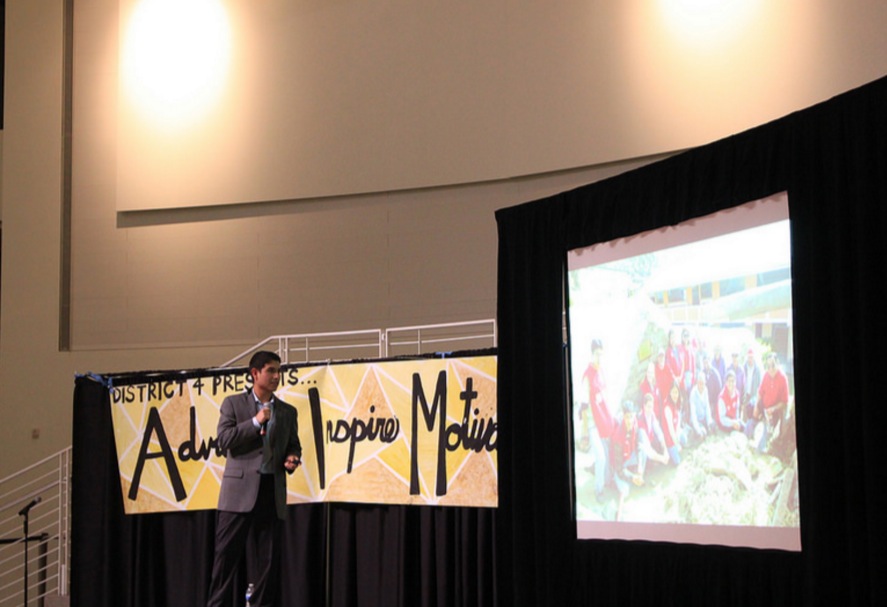 Several hours after landing on SFO, I had the honor of speaking at the AIM Event at the City Hall of San Jose. This outstanding event sponsored by the Youth Advisory Council gave me the opportunity to inspire over 200 high school children from the capital of Silicon Valley. The purpose of this conference was to advice the next generation of overachievers by sharing our struggles, motivations, and experiences in Silicon Valley.
Before arriving to the city hall I had the honor to grab lunch with Former Mayor Ron Gonzales at the Silicon Valley Capital Club who inspired me by saying that the new city hall was built during his tenure.
Build the Bridge. Those were the first three words of my 10-minute speech. The vast majority of the audience looked at me thinking "this guy is probably a civil engineer". While I am not a civil engineer, my speech was about a young girl named Juana who aspired to build the bridge for her Andean pueblo 12,650 feet above sea level in order to improve lives in rural Peru. This transformation happened in a span of three years: before then Juana aspired to be a farmer. I shared the mindset that it is better to give than to receive. When we start embracing the philosophy of creating opportunities for others to excel, we will succeed even more. That's the main reason why I transmitted the message of giving. I reminded the students how privileged we are to live in a country were we have the freedom to pursue happiness. We shouldn't take all of these privileges for granted. Freedom is not free.
The first photograph of my presentation was me working at a Toyota dealership as a tender teenager. Most of the kids were impressed by the fact that my first job was a blue-collar profession. Interestingly enough, when I asked the question of who has worked as a car mechanic only two raised their hand. Less than 2% of the audience. Moving on, I described how lost I felt regardless of my high school success — 4.0 GPA, student government cabinet, president of two honor societies, tennis varsity team, and part-time job at Toyota —  there was no purpose in my life. During that dilemma of self-discovery my mother decided to found an educational nonprofit in Pampas Grande, Ancash, Peru. Her reasoning behind: it is a bigger blessing to give than to receive. The summer after I volunteered to build the library and fell in love with social entrepreneurship. When the educational nonprofit received corporate funding it was able to build 3 libraries, 3 greenhouses and 1 school. Thus, Juana was one of the beneficiaries– she has internet connection, telephone line, and a scholarship. Ten years later, I find myself launching a data science startup that saves corporations time by empowering them to give smarter. SmileyGo indexes social data for Fortune 500s to embrace smarter philanthropy.
At the end of my speech, I was humbled to see how many students approached the stage to get a photograph, advice, or a handshake. Actions are more valuable than words. Not only students but parents also came to congratulate me for the morals behind the Build the Bridge speech. It's time to embrace the mentality that it's not about us. It's all about serving others.